Hacking Social Impact, for Gaza Sky Geeks, for Humanitarian Response, for Impact at Scale
September 11, 2014 at 11:03 am abbychroman 1 comment
Thi
s post was contributed by guest writer Carolynn Duncan, Founder of NW Social Venture Fund. It was originally posted here. 
 ————————————————————————————–
Last week, Northwest Social Venture Fund co-hosted a series of 7 brownbag talks in support of Gaza Sky Geeks, a Mercy Corps + Google for Entrepreneurs founded accelerator, which aims to generate a spirit of empowerment and a homebase for tech entrepreneurs in Gaza, who are creating new businesses and developing an entrepreneurial ecosystem, in some very difficult conditions.

Innovators gather at the Stanford Center for Social Innovation

On campus at Stanford University, in Palo Alto, CA
Many individuals who attended gatherings in behalf of Gaza Sky Geeks, or who responded through social media, email or other avenues, let us know that they directly have a family, personal, or business connection to Gaza and Israel, that they have been thinking of their ties to the area and not knowing what is occurring on the ground, how to approach discussing the conflict with colleagues, friends and family, or how to absorb the dark, complex topics of the conflict while also maintaining personal motivation to contribute, and to find avenues to supply time, skills, donations, or support to the longterm humanitarian recovery response.

Impact Hub Berkeley, in Berkeley, CA

We love this quote board at Impact Hub Berkeley!
For our team at NWSVFund, to feel inspired to contribute to a humanitarian challenge, but to be disconnected from any actionable way to contribute, is heart-wrenching. We are so grateful to have a strong network and community, where we can work together to address challenges in conversation, and in action.
On this particular effort with Gaza Sky Geeks – Tom Sperry, from Rogue Venture Partners and one of the original advocates for Gaza Sky Geeks, Allison Deverman Vietor, founder of Tech4Change, a Mercy Corps partnership with Startup Weekend, and Lynn Le, founder of Society Nine and formerly at Portland Seed Fund, as well as NWSVFund's founding partner Carolynn Duncan, a longtime supporter of Mercy Corps special projects – have independently been championing Gaza Sky Geeks, and through the brownbag series, were able to rally collective local networks to bring a broader, community-level awareness to the work that the Gaza Sky Geeks team has been doing to deploy entrepreneurship as a humanitarian tool to inspire longterm economic vibrancy for local Gazans.

On campus at the UC Berkeley Blum Center

Social entrepreneurs at UC Berkeley's OnRamp program
We'd like to warmly thank our hosts at the Stanford Center for Social Innovation, Impact Hub Berkeley, UC Berkeley Blum Center, Mercy Corps, Mercy Corps Action Center, NedSpace, and StarveUps, for facilitating dynamic conversations and sharing Gaza Sky Geeks and Northwest Social Venture Fund's work with their communities.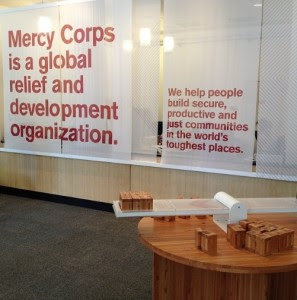 Mercy Corps Action Center, in Portland, OR

Innovators gather at Mercy Corps Action Center
To continue amplifying the message about Gaza Sky Geeks' important work, we invite folks to get involved by making a pledge to their upcoming Indiegogo campaign to support the accelerator's operational development, and to make a personal contribution in any form, whether via crowdfunding, broadcasting promotional materials about the Indiegogo campaign to your network, working on special projects, or mentoring Gazan tech founders over the long haul as they work to establish sustainable businesses that provide jobs and hope locally.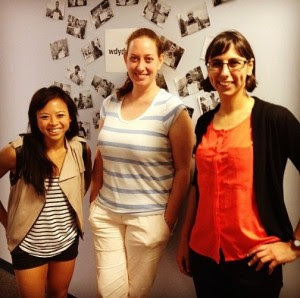 Lynn Le, Carolynn Duncan and Iliana Montauk, at NedSpace

Innovators gather at NedSpace, in Portland, Oregon
Likewise, Northwest Social Venture Fund will continue to offer opportunities and special projects, that strengthen scalable social entrepreneurship and impact investing as two important tools in our overall mission, to reduce suffering in the world –
Our upcoming unconference, Hacking Social Impact, is a great avenue to connect with our team and work shoulder to shoulder on special projects and learning new skills in tech, finance, and impact, in order to become a more effective practitioner. We will focus this year's unconference on how YOU can engage in scalable social entrepreneurship and impact investing, to make a clear and helpful difference to humanitarian initiatives like Gaza Sky Geeks and other special initiatives that we support and advocate for.
To get involved with Hacking Social Impact as a volunteer, sponsor, partner or speaker, please complete this registration link.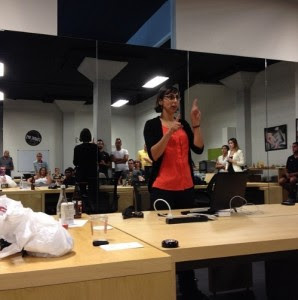 Gaza Sky Geeks' Iliana Montauk speaks to StarveUps founders

Carolynn Duncan, Allison Deverman Vietor, and John Friess at StarveUps

NWSVFund's Carolynn Duncan, and StarveUps' John Friess
We also offer the Impact Investing Education Series, for university students, philanthropists/investors, fund managers and practitioners, who wish to more fully engage in the impact investing space, and bring personal skills in finance + impact up to speed through hands on learning in investment frameworks, impact metrics, analytics, and due diligence. To sign up for our fall IIES programs, based from NWSVFund offices in Portland, Oregon and Boulder, Colorado, and open via Google Hangouts video conferencing to participants anywhere in the world, more info is available here.
Finally, what impresses our team at NWSVF so much on a continuous, ongoing basis as we do our work in the impact community, is how much each of YOU really care, and for that, we are so grateful. If we can assist with something you are working on, we hope that you will reach out to let us know.
-Northwest Social Venture Fund
Connect with Gaza Sky Geeks
@gazaskygeeks / imontauk@ps.mercycorps.org / www.gazaskygeeks.com/
Entry filed under: Events, Impact Investing, Oregon entrepreneurship news, Social Entrepreneurship, Uncategorized. Tags: carolynn duncan, gaza, impact funding, middle east, NW Social Venture Fund, sky geeks, tech for change.
Bringing it Home: A Social Innovation Summit for the Pacific Northwest How to Map Your Career on One (Big) Page